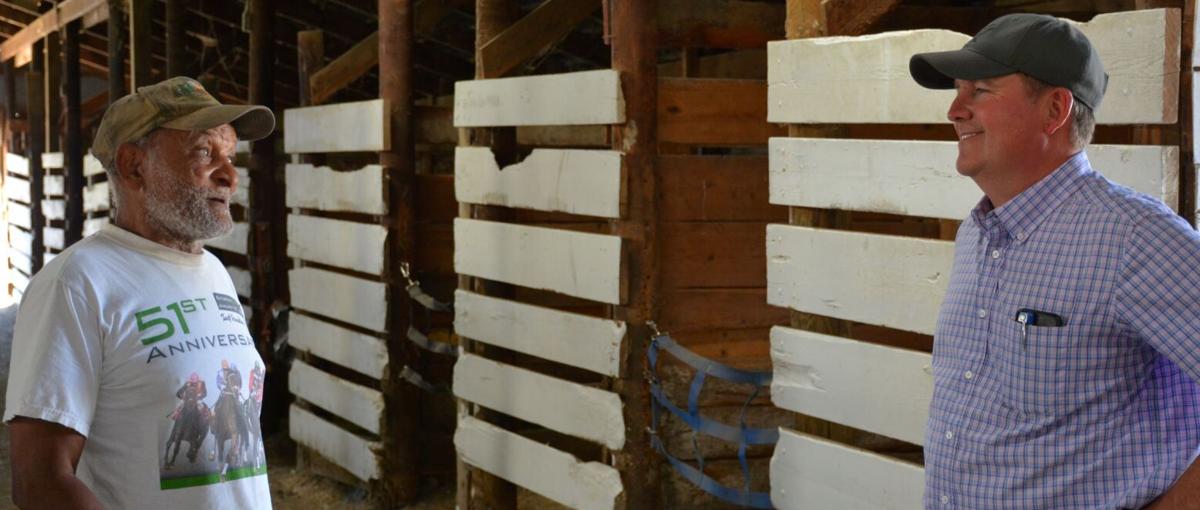 Future of horse racing remains a concern as Fort Pierre takes to the track | Local News
With almost 60 years under his belt, you'd be hard pressed to find anyone with more experience or passion for horse racing than Fort Pierre resident Herman Fennell Jr. the next race could be the end of a long tradition in the state.
On Tuesday, Fennell, 72, spent his morning at the Stanley County Fairgrounds preparing for the state's last remaining horse race, starting Saturday at 8 a.m. in Fort Pierre and lasting for two days.
"We have to bring the race back to Fort Pierre, South Dakota and Aberdeen," he said. "It would help the jobs, all the businesses here, you know, the motels, all your grocery stores and just for the people. People need something … Even though it's a little month of shopping here. , it raises the economy and gives some people something to look forward to in the spring. It really slowed down this town without racing. For racehorses, it's a blow to the heart. "
Fennell said the decline of the sport is reducing his livelihood and vocation in life.
"I had 20 horses here on the track when they had the races here," he said. "That's quite a bit of money coming in every month. You calculate every horse I get from $ 900 to $ 1,500 on a horse, and you multiply that by 20-30 days. That's a big chunk of it. 'place I have to go to work for someone for $ 400-500 a week. You can't get away with it. It hurt the people of South Dakota. "
Still walking
Fennell said that the idea that the last stronghold of horse racing could end for good after every race is a real concern.
"We are lucky to have this," he said. "Because I know three years ago, when they said they weren't going to race here anymore, you know, that year that the races (would have been), it was a sad day. I would sit at the house and say, 'You know now I would go to the jockeys room.' "
Fort Pierre resident Shane Kramme, 51, is the track director of the Verendrye Benevolent Association, was the starter, worked the gate and lobbied the state for horse racing.
Kramme said it might be difficult for the public to understand the constant struggle to keep the races going. He found that people hear the race is back and assume they will continue.
"Frankly, every year there's been this discussion that racing was kind of on the decline in South Dakota, but yet every year we had races," Kramme said. "So people are tired of hearing you cry wolf and say, 'Well, you're going shopping again. I thought you couldn't have them.'"
Kramme said South Dakota's horse racing industry started to struggle in the 1980s, but there was a bright spot when Gov. George S. Mickelson was elected.
"The money that's in the two live racing accounts – the way horse racing in South Dakota is funded, there's the revolving account and the high account in South Dakota – and so it stays a Simulcast site in northern Sioux City, "Kramme said. "So when you walk into this building and place a bet, 4.5% of that bet goes back to those two live racing accounts to support live racing in South Dakota. And that's the mechanism that has it. was set up in 1987 by George Mickelson and that administration. "
But Kramme said that after Mickelson, support from state governors waned, leading to the current state of the industry. He said he pushed for the Horsemen's Association to recover $ 120,000 of the $ 5.85 million in live racing funds that the state redirected to other projects.
"We intended to use that money to run in 2019," Kramme said of the $ 120,000, which came from a general expense bill. "Since we didn't use that, the governor thought it would be better if they took that money back. So I went back to the Legislature (in 2020) and fought and kept that $ 120,000 on both accounts with the invaluable assistance of Rep. Tim Rounds at the time and other lawmakers. "
Kramme said most of the money was spent on last year's race and some are still funding the race on Saturday and Sunday.
"If we didn't get this money back, I don't think we would be here today," he said.
Kramme attributed the lack of support for live racing from Noem's office to the misconception that it's all about playing. He also said people can support horse racing by talking to their elected officials and showing up at events.
"They need to talk to their lawmakers and say they want to see South Dakota horse racing live and be open-minded and see it for the farming industry that it is – it's not a farming industry. game, "he said. "You can come to the races. You don't have to play. You can watch the races, eat popcorn, and drink pop. You don't have to drink beer. You don't have to gamble. . a family event, and that's what you often see here. "
Start early
Fennell took his first steps in horse racing in sixth grade in Seguin, Texas. He remembered being a kid and seeing jockeys when he was in town. It was then that he knew what he wanted to do with his life.
"We were driving through town in a buggy, and we were passing by a racetrack, and I saw these riders standing on their horses going around the racetrack, and I thought it was fun, "he said. "I said, 'Dude, I'd love to do that.' Since my parents were so strict, I would sneak up to the race track and watch the horses circling the track. ' And I said, 'Yes sir, of course I would. I would love to do that.' "
It was Fennell's break. He spent a few years helping out on the track and learning to ride. Then at 13, he won a few races over the next two years. At the age of 16, Fennell received his professional license, triggering a career that has spanned more than five decades and that counts.
Fennell believes the decline in horse racing in South Dakota could deny such opportunities to today's youth, who may not see a future in the sport due to the lack of racing opportunities.
It was a sentiment shared by Kramme, who said he hadn't missed a horse race in the city since he was three.
"My grandfather was very involved. We had horses," he said. "But when I got really involved in managing the track, South Dakota horse racing was pretty much in crisis mode."
Kramme joined Verendrye's board of directors in 2017 and found that he didn't fully understand the issues horse racing faced in the beginning. He said his first year the board voted not to run a race. But he was able to secure a donation of $ 15,000, which led to a second vote and a return to the race.
"There were other hurdles that we had to overcome with the state. I took care of them all and we were allowed to run in 2018," Kramme said. "And that's what we've done."
While the race continued in 2018, the following year did not take place. Kramme said it was more related to weather conditions and some funding issues.
He found it increasingly difficult to compete with neighboring states to attract nominations without the support of the state legislature and the office of Governor Kristi Noem.
Noem's office did not respond to the Journal of the capital request for comments on South Dakota horse racing.
Kramme said it's been tough trying to carve out a slice of the industry, and now he's focused on keeping the lights on. South Dakota's decline in horse racing has also resulted in the loss of experienced trainers and horse owners, which Kramme said the state has had a long tradition of producing.
"Unfortunately, when you start to lose coaches and owners knowing the money is not there, you lose your voice, you lose your swagger, you lose your influence," he said. "And now you only have a few left. The sad part is that it sends a signal to the youngsters, 'Hey, if you're going to make a living, don't look at the Dakota in the South.' That's the unfortunate part, the lack of young people who got involved because of the lack of support. "
Fort-Pierre
Fennell isn't racing this year, he works as a groom, but he said he has his eye on next year. He said that if he can win a quarter horse race at his age, he will hold the record for the oldest rider to win the event. He remembered growing up and hearing that he would not be successful as a jockey and that he had found his career and that a final record would show that anything is possible.
"It's a top you can get in any type of sport – it's doing something that no one else has done," Fennell said. "And that's what I want to do. So all my grandchildren can say their grandfather, my daughters and my son can say to my father, 'He was the oldest in history.' It's something big, and that's all I want, it's this small size. "
Fennell moved to South Dakota in 1994, but his connection to Fort Pierre horse racing goes much deeper. He first raced at Fort Pierre in 1968 at the age of 17 – his most recent date of 2020.
"I was a kid, and it was new, and it was my first time leaving Texas. And I've never seen a weather like this," Fennell said. "It was snowing – cold, cold, cold in April. I left Texas and it was 90 degrees, and I got here and it was in the 20's. I couldn't even believe they had even had shopping that day. "
He said racing has stopped since then and this has taken its toll on the sport over the years.
Despite the current problems and difficulties in attracting entries and keeping the purses attractive to owners, Fennell is confident that the Fort Pierre race on Saturday and Sunday will be a success.
"It'll be a crowd. I know that," Fennell said. "I'm not going to hope – it's going to be crowded. People are already sitting in town talking, 'The races are on this weekend. "It's ready to come. It's going to be a crowd."
Jorge Encinas | 605-224-7301