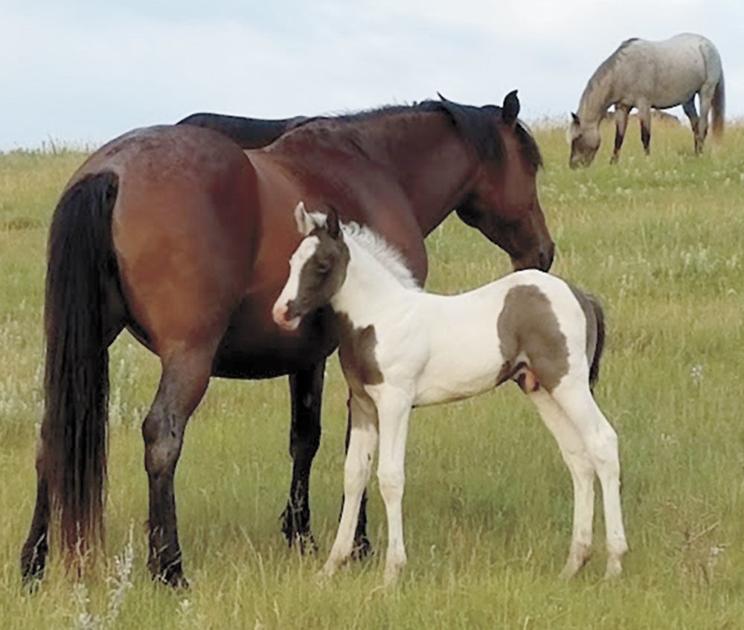 Minnesota Stables Provide Safe Haven For Waning Nokota Horse Breed | New
In a Dakota legend, the horse was created during a thunderstorm, when lightning struck a whirlpool in the Missouri River and a horse emerged from the depths. It's easy to imagine this origin story when looking at the Nokota horse, a descendant of the wild horses that once roamed the Badlands of North Dakota in abundance.
This horse has captured the hearts and imaginations of many, who are now trying to revive the breed. Judy Onufer from Marine on St. Croix and Jerusha Steinert from Hugo recently brought their Nokota horses to the Minnesota Horse Expo, held at the Minnesota State Fairgrounds April 27-29 to share their story with other horse lovers. in the Twin Cities.
Frank Kuntz was among those who spoke about the Nokota horse to a small audience in the Horse Barn on April 29. Kuntz and his family are the founders of the Nokota Horse Conservancy, a nonprofit organization based in Linton, North Dakota dedicated to the preservation of this breed.
The breed was named by Kuntz's brother Leo after their home state of North Dakota. Leo bought several wild horses from the annual Theodore Roosevelt National Park in the 1970s out of curiosity and discovered a type of horse that was extremely intelligent, enduring, loving, and in danger of death forever.
The history of the Nokota horses is closely linked to the Plains tribes, who were forced to surrender their horses when defeated by the American cavalry. The horses changed hands, spread over different ranches and crossed with other breeds. Eventually, a wild population wandered inside Theodore Roosevelt National Park, but in the 1950s, the goal of the National Park Service was to eliminate these horses from the park.
"Horses were not native to the area like elk and deer," Kuntz explained. "They tried many ways to eliminate these horses… Fortunately, some locals started to complain. The horses had been there for as long as they can remember. A protection law was passed in 1971 which allowed the herd to remain protected in the park, which was managed with periodic roundups. Eventually the NPS decided to change the appearance of the breed by introducing stallions from other breeds into the park and killing Nokota stallions and lead mares to allow new horses to breed. Seeing the risk of losing the Nokota breed forever, the Kuntz family began to buy as many horses as possible from roundup sales. The Kuntz family had a good experience with horses, but working with wild horses was a different experience.
"We learned a lot from these horses that we took out of the park," he said. "We have dealt with a lot of horses throughout our lives, and they are some of the smartest, most compassionate horses I have had the pleasure of working with."
The coloring of Nokota horses varies across the board, but one of the most dominant coat colors is an eye-catching blue roan which has become a signature of the breed. There are two recognizable types of Nokota: the traditional and ranch types. The traditional types appear to be more closely related to the Spanish colonial horse and are generally smaller than the ranch variety. Ranch-type horses generally have a larger and heavier frame, reflecting a history of crossbreeding with thoroughbreds, draft horses and the like.
Steinert, who trains at Lakeview Stable in Hugo, specializes in training the Nokota breed. In 2014, she won the American Horsewoman's Challenge with her horse Nokota Mesabi Warrior. Mesabi Warrior showed his things to the public in the Horse Barn at the State Fairgrounds, together with Steinert's daughter, Roslyn, 6.
"So one of the first things we talked about when we picked him was to see if he liked little people, because that was going to be a big deal," Steinert said. "And some of them have a very sensitive nature to little people. As you can see, he really adores her, and I really trust him, and that's a wonderful thing.
She attended a few gentle clinics with one of her mentors at the Nokota Horse Conservancy for a few years and was struck by the intelligence of the young Nokota horses.
"Their intuitiveness, body language and social structure just blew me away," she said. "I was expecting to come into this herd of non-gifted horses and be afraid of being hit or hit or whatever, and they would literally move their body and face not to touch me because they had such a different idea of ​​sociability and mental space … Most of them have more awareness than most people, in my opinion.
Steinert began to buy and train Nokotas. Four years ago, Onufer learned that Steinert was trying to sell a Nokota gelding named Crescent. Onufer had been happy to rent a horse from another stable and was not at all interested in owning a horse.
"Then she showed me this video of this horse galloping through the snow with its bareback rider," Onufer said. "I started to dream about it. I couldn't get it out of my head. She eventually gave in and went to see the horse in March 2014.
"In an hour alone in an arena with this horse, I realized he had chosen me," said Onufer. "He came up behind me as I was sitting on a mounting block with a cup of coffee, and I could feel his energy, that he was sort of gauging me. He come up from behind me and put his nose on my head, and left it there with all his weight. I was just in this hypnotized trance; is this really happening? Here is this horse that does not know me. I don't know much except how to ride a horse and how to walk, trot, gallop. This relationship is built. "
She bought Crescent and joined the board of directors of Nokota Horse Conservancy. Her son is now riding Crescent, and Onufer sought out a second Nokota that she felt was better suited to her stature: a gelding named Polaris. Polaris has only been out of the wild for six months, but Onufer said she's building a great relationship with him, with the help of Steiner's training.
"Please don't ever think a wild horse is going to be a handful and that's too much for me," she said. "They are incredible partners. They learn fast, as long as you are dedicated, making sure you build that relationship. They are wonderful."
Jackie Bussjaeger is the editor of Forest Lake and St. Croix Valley Lowdown and can be reached at 651-407-1229 or [email protected]